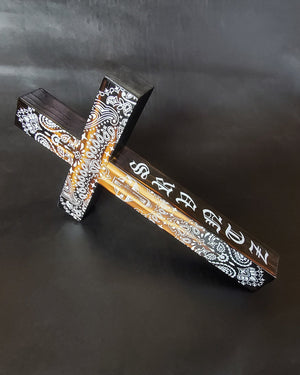 SRVNTZ x GBS Bandana Cross - Torched
This wall cross is handmade out of pine wood with a screen printed bandana design on top, Srvntz on the side and GBS logo on back. This cross is a limited run and hand numbered. THe cross has been hand torched and burned.
Product Details:
Dimensions 13" (H) x 7.75" (W) x 1.5 (D)
Handmade wood cross 
Bandana Screen Print
Limited
Hand numbered
*Allow 7-10 business days to ship. Each cross is custom-made.